Biking in Minneapolis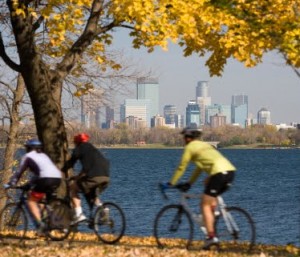 Bike Lane Markings in Linden Hills
You may have noticed the bike lane markings on certain neighborhood roadways. A combination of bike lanes and shared lane markings, also called "sharrows," are meant to call attention to bicycle traffic, and enhance bicycle safety on these neighborhood routes, helping bikes and cars navigate safely together.
The designated bike routes through the neighborhood are: Upton/Sheridan Ave from 47th St to 39th St, W. 44th St between France and Upton Ave.; W. 42nd St between Sheridan Ave. and Lake Harriet Pkwy.
The bike lane project was funded by LHiNC and the City of Minneapolis, with contributions from the Linden Hills Business Association, Clancey's, the Linden Hills Co-op, and through individual donations made to Southwest Pedal Power.
Nice Ride Station in Linden Hills
In May, 2013, the Nice Ride bicycle sharing project installed a station in Linden Hills at Upton & Sheridan. The program is easy to use and so
convenient. Take a bike when you need one and return it to any Nice Ride station in the Twin Cities. For more information on the program and station locations, visit niceridemn.org
Stations have also recently been installed in front of The Bakken and near the Lake Harriet Bandshell.
Register Your Bike with the MPD
Every year, thousands of bikes are lost or stolen in Minneapolis. Many are recovered but due to a lack of identification, few are returned to their owners.
The Minneapolis Police Dept (MPD) has created an free and easy, online way to register your bicycle. You will need to include your bike's serial number, a description of the bike, including make and model, and your contact information.
Click on this link to register your bike and in the event it is lost or stolen, and recovered by the City, it can be returned to you quickly!
Minneapolis Bicyclist and Driver Safety Campaign
A growing number of people are taking to the streets and trails on bikes. Whether you are biking, driving or doing both, the City of Minneapolis wants to remind everyone about bicycle safety.
Four new transit shelter posters will help educate bicyclists and drivers on how to safely share the road and avoid common, preventable crashes.
The 2013 safety campaign posters will appear in transit shelters around Minneapolis in areas of town where bicycle traffic is high and bicycle-related crashes are more frequent.
Electronic versions of all the posters are available online.
The posters remind bicyclists and drivers that:
Safety starts with all of us – Data shows that bicyclists and drivers are equally responsible for bicycle-vehicle crashes in Minneapolis.
Bicyclists need to follow traffic laws and ride predictably – One in three bicycle crashes in Minneapolis involves a bicyclist running a red light, riding against traffic, or failing to yield the right of way.
Drivers need to slow down and look for bicyclists, especially when turning – 40 percent of bicycle-vehicle crashes in Minneapolis involve a driver not seeing or yielding to a bicyclist.
Bicycling in Minneapolis is actually getting safer – As more people use bicycles for transportation, bicycle-vehicle crashes have not increased.
Click here to view the complete Dept of Public Works report.
Funding for the campaign comes from the Non-Motorized Transportation Pilot Program, a Federal grant aimed at increasing walking and bicycling. Design Works, an in-house design firm at the Minneapolis College of Art and Design, designed the poster layout. The illustrations were done by local artist, Bill Rebholz.
More information about the campaign is online at www.minneapolismn.gov/bicycles

Biking in Minneapolis – Helpful Links