Linden Hills Festival
Thanks to everyone who came out to celebrate the neighborhood on May 21, 2017. We so appreciate our incredible volunteers, donors of all
kinds, sponsors, and partners – including the Linden Hills Farmers' Market! THANK YOU!
We'll be back for the 44th annual Linden Hills Festival on Sunday, May 20, bringing more fun to the neighborhood! Mark your calendar and join us!
Festival activities: a parade of wheels, silent auction, art fair, live music, beer garden, games, jump houses, and more! The Linden Hills Farmers' Market joins the Festival from 9 a.m. to 1 p.m. We feature food provided by some of the best of Linden Hills and Southwest Mpls!
Art fair & marketplace
Bounce houses
Food! Food! Food!
Games
Music
Parade (11:00 a.m.)
Red Wagon Beer Garden featuring Fulton Beer
Silent auction (11:00 a.m to 3:00 p.m.)
Yoga in the park (11:30 a.m.)
The MPLS Tap water system will be available.
Bring your water bottles for free fill-ups!
We love our volunteers!
The annual Linden Hills Festival requires the help and participation of nearly 150 volunteers! Consider volunteering at this great neighborhood event. Grab a friend and sign up together!
Art Fair & Marketplace
Dozens of artists and businesses join the Festival – check them out!
Silent Auction
Funds raised at the Festival go right back to the neighborhood in the form of grants and scholarships. Recent recipients of LHiNC funds include Southwest High School students, Linden Hills Chamber Orchestra, Minneapolis Pops Orchestra, Linden Hills Park, the Southwest High School Community Education Green Team, Christopher Watson Dance Company, and youth organizations like Boy Scout Troops, tutoring programs, and music education programs.
Neighborhood Garage Sale –  Saturday, May 19, 2018!
The annual neighborhood garage sale has become a special community tradition.
Zero waste at the Festival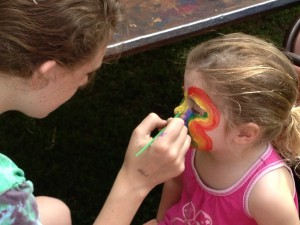 Our Festival is Zero Waste! Thank you for helping keep Linden Hills green and waste free! The Festival has been 'zero waste' since 2008! Click to review our Zero Waste Policy.
SCHEDULED EVENTS AT THE FESTIVAL
Linden Hills Farmers' Market
9:00 am to 1:00 pm  Set up in the park near 43rd & Xerxes.
Decorate your Wheels
10:30 to 11:00 am  Decorate your wheels for the parade. Supplies provided by at the Park.
 Parade of Wheels and Pets
11:00 am  Gather at 43rd & York for the Parade led by the Southwest High School marching band. Bikes, trikes, big wheels, skateboards, wagons, rollerblades, scooters or trailers welcome. Leashed pets are also welcome.
Yoga in the Park with YogaFit
11:30 am near 43rd & Zenith
Cool Planet Family Frisbee Playshop
12:30 to 2:00 pm  Learn lifetime skills and games with the magical flying disc. Combine frisbee fun with the principles of yoga, and learn about opportunities to link fun with sustainable living for a healthy planet.
Live Music!
10:00 am to 5:00 pm.
Silent Auction
11:00 to 3:00 pm  Don't miss this great opportunity to bid on merchandise donated by area merchants while raising funds for our community. Outside in the big tent.
Wendy Watershed and Billy Bass
1:00 to 3:00 pm  Learn about the important role everyone plays in keeping Minneapolis' waters clean.
Linden Hills Used Book Sale
11:00 to 3:00 pm inside the Park building  Browse for books of all kinds for a great cause. Sales benefit the collections and programs at the Linden Hills Library.
Minneapolis Fire Truck
Sometime between 12:00 and 3:00 pm Come and meet our firefighters and see how their trucks operate.
Face Painting
Noon to 4:00 pm in the Games area. Always a favorite!
All Day Events
FOOD! FOOD! FOOD!
Look for your favorites from Linden Hills.
Clancey's Meats –brats and hot dogs
Drew's Donuts –mini donuts and lemonade
Red Wagon Pizza – you know them, you love them!
Porchetteria at Terzo – porchetta sandwiches
Tilia – fish taco tortas
… and Sebastian Joe's ice cream, coffee from Coffee & Tea, Ltd., cotton candy, and more!
Art Fair & Marketplace
Local artists, craftspeople and businesses will  display and sell their art and wares. Don't miss the Boy Scouts' extensive and informative display and bring your bike to receive a free safety diagnostic exam.
Inflatables & Games
Check out the bounce houses for small kids and big kids. Play games all afternoon, sponsored by Southwest High School. New this year: wristbands for unlimited turns at the bounce houses and games!
Linden Hills History Study Group
Talk to our history specialists and buy local history books.
LHiNC Booth
Learn about the exciting programs in our neighborhood, buy Linden Hills t-shirts and water bottles! Find us near the ticket sale tables in the parkinglot.
Zero Waste
Thanks to Linden Hills Co-op for sponsoring "Zero Waste" at the Festival. Look for signs on bins to help us minimize trash.
Free Compost
Thanks to Linden Hills Power & Light for again supplying free compost! Bring your buckets! Compost is available starting at noon (no sooner!).
Free Water Fill Ups
We encourage everyone to bring a water bottle and fill up for free, thanks to TapMpls.