What's New
Park Board Offering to Replace Ash Trees
Following the recent discovery of emerald ash borer at Lakewood Cemetery, the Minneapolis Park & Recreation Board is offering to take any unwanted ash trees off public boulevards.
Upon request, Park Board staff will remove the ash tree and plant a new tree in its place. For more information or to request an ash removal, call 612.313.7710.
Proposed Addition to Streetcar Carbarn
On July 25, the MPRB and the Minnesota Streetcar Museum (MSM) held an open house to discuss a proposed addition to the George K. Isaacs Carbarn, located at Linden Hills Blvd. and Queen Ave. S.
MSM has proposed the addition to expand its program of refurbishing, operating and maintaining a fleet of historic streetcars. The proposed addition would be on Park Board property near Lake Harriet Pkwy W.
Representatives from MSM also appeared at the August 13 LHiNC Board Meeting to discuss the proposal and to request LHiNC's support for the project. Click here for more information.
What the Small Area Plan Survey Says About Us
Were you one of the 460 people who submitted the Small Area Plan survey in February? New analysis of the survey data makes the results easier to comprehend. For example, we now know that a majority of respondants indicated their two least favorite things about Linden Hills are a "lack of stores," and "tear-downs/Mc-mansions."
Click here for all the data.
Southwest Sewer Rehabilitation Project Underway
Metropolitan Council Environmental Services (MCES), which operates the metro-area wastewater collection and treatment system, has been working this summer on the Southwest Minneapolis Interceptor Rehabilitation Project. The project will include repairs to or replacement of three regional sewers, encompassing a large area, with sections in Linden Hills, along Lake Calhoun and Lake Harriet, through the Roberts Bird Sanctuary, through Lyndale Farmstead Park, along Kings Highway and 36th Street. Work in most areas will start in Spring/Summer 2013, while work in the Roberts Bird Sanctuary will start later (Winter 2013/Spring 2014) to minimize disruption to bird migration and wildlife.
In collaboration with the Linden Hills Neighborhood Council, MCES held a public information meeting and open house in February to present information about the sewer repair project. MCES staff and consultants used maps to show where the regional sanitary sewer repair work will be done. They also described how and when the work affect certain areas, and discussed potential effects and mitigation efforts. Another open house will be scheduled for October to discuss subsequent phases of the project.
For more information and details about this project, click here for the Fact Sheet and Map that was shared at the LHiNC January Board Meeting.
Constance Pepin Named MPRB Volunteer of the Year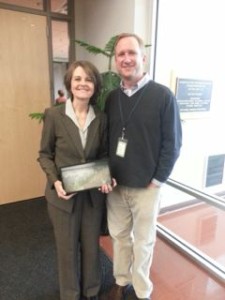 At a recent ceremony, the Minneapolis Park & Recreation Board recognized Constance Pepin, LHiNC Co-chair, for her outstanding volunteer service in 2012.
She was one of five adults and one group recognized with a Remarkable Volunteer Service Award. Each honoree received an artist-designed award, and $500 for the park program they served as a volunteer. The funds will be used for youth to learn about and plant native plants at the Linden Hills Park.
Constance has volunteered for both the MPRB and the Linden Hills community for many years, and currently serves as LHiNC Co-chair and as Chair of LHiNC's Environment Committee. As a steward for nature and green space in our community, Constance has spent countless hours working on environmentally important objectives including advocating for the protection of the natural areas in our park system. Thank you for your contributions, Constance!