Linden Hills Shops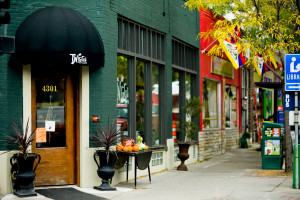 Linden Hills is filled with a variety of local and independently-owned shops, including restaurants, coffee shops, children's toy stores, a garden center, a fabulous wine and liquor store, and an award-winning children's bookstore.
Find bakeries, a butcher shop, dentist, veterinarian, and a hardware store—everything an urban village needs.
Click here to visit the Linden Hills Business Association.
*All telephone numbers begin with 612 prefix unless otherwise noted.
Shops
Architecture & Home
Harriann Upholstery
3537 West 44th St      922-9224
Karagheusian Rug Gallery
4405 France Ave S      920-5008
Children
Flowers & Garden
Brown & Greene Floral, Floral Market
4400 Beard Ave S       928-3778
Sunnyside Gardens
3723 West 44th St      926-2654
Twiggs Home & Garden
Wimmers Yardware
3545 West 44th St      922-3295
Gifts, Jewelry, Clothing & Crafts
The Bibelot
4315 Upton Ave S       925-3175
Christian Science Reading Room & Bookstore
4306 Upton Ave S       929-5623
Honeyshine
2720 W 43rd St          377-7300
Heart of Tibet and Sky Door
4303 Upton Ave S       926-8723
The Linden Tree
4404 Beard Ave S       355-4410
Needle Works Unlimited
4420 Drew Ave S        925-2454
Rick Rack
3413 W 44th St           746-4160
Russell + Hazel
4388 France Ave S      952-929-9000
Tuesday Morning
4440 Drew Ave S        920-4444
Turnstyle
4438 Drew Ave S        455-4090
Uniquely Yours Custom Designed Jewelry
4305 Upton Ave S       746-0508
Victory
3505 W 44th St           926-8200
Hardware
Health and Fitness
Gear Running
4406 France Ave S      952-926-2645